Campus
Together with the Departments of Chemistry and Pharmacy (Faculty of Chemistry and Pharmacy), the Center for Neuropathology and Prion Research, the Institute for Stroke and Dementia Research and the University Hospital Großhadern, the Gene Center and BioSysM form the Großhadern Campus of the LMU in the south-west of Munich. The campus also hosts a Helmholtz Center Munich Institute.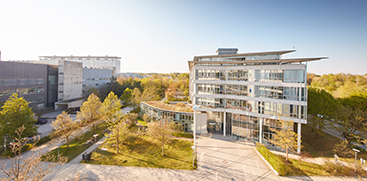 The Großhadern Campus is immediately adjacent to the Martinsried Campus, home to the LMU Biocenter and LMU Biomedial Center, the Max Planck Institutes for Biochemistry and Neurobiology, the Innovation and Startup Center for Biotechnology IZB and a number of small and larger biotechnology companies.
Großhadern/Martinsried is a hotspot of life science research and one of Europe's most important biotech regions.
An annotated aerial view and more information about the campus can be found here.