5th Munich International Symposium – Chromatin Dynamics
Date: October 10-12; Registration open now!
08.08.2019
The CRC 1064 organized an international symposium on chromatin dynamics. Outstanding speakers will discuss various aspects in this field ranging from atomic resolution to systems biology approaches.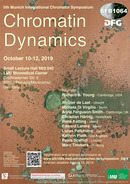 The symposium includes a keynote lecture, invited speaker talks, a poster session and up to 8 short talks selected from abstract submissions. See the preliminary program.
Date: October 10-12, 2019
Venue: LMU Biomedical Center Munich
Keynote Lecturer: Richard A. Young (Cambridge, MA)
This symposium offers great opportunities for exchange, discussion and networking for both newcomers and experts in the field. We particularly encourage early stage researchers to submit abstracts and present their work.
All are welcome!
Registration/attendance for this conference is free but manditory for planning purposes.
Please refer to our webpage for additional information and online registration.
Deadline for abstract submission: August 15, 2019
Deadline for registration: September 10, 2019
To contribute to the Sustainable Development Goals, this symposium aims to practice responsible consumption, using recycled products and reducing disposables whenever possible, including implementing a paper-free abstract booklet.