Coley award for Veit Hornung
Veit Hornung is one of the winners of the 2020 Coley Award for distinguished research in basic and tumor immunology
10.09.2020
The Cancer Research Institute (CRI), a nonprofit organization dedicated to advancing the discovery and development of powerful immunotherapies for all types of cancer, has announced the 2020 recipients of its highest scientific and philanthropic awards.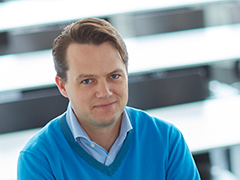 Veit Hornung is one of the winners of the 2020 Coley Award. This award is given to one or more scientists for seminal discoveries in the fields of basic immunology and tumor immunology, and whose work has deepened our understanding of the immune system's response to cancer and advanced the development of effective cancer immunotherapies:
The 2020 William B. Coley Award will go to the following for their individual contributions to the discovery and characterization of the cGAS-STING pathway, an important component of the innate immune system that currently is being utilized in the development of novel immunotherapies against cancer:
Andrea Ablasser, M.D., of the École Polytechnique Fédérale de Lausanne
Glen N. Barber, Ph.D., of the University of Miami Miller School of Medicine
Zhijian J. Chen, Ph.D., of Howard Hughes Medical Institute and The University of Texas Southwestern Medical Center
Veit Hornung, M.D., of Ludwig-Maximilians-Universität München
Russell E. Vance, Ph.D., of Howard Hughes Medical Institute and the University of California, Berkeley
For more information about Veit Hornungs's career and his research projects, please visit the Hornung lab website.
About the William B. Coley Award for Distinguished Research in Basic and Tumor Immunology
The Cancer Research Institute established this award in 1975 in honor of Dr. William B. Coley, now regarded as the Father of Cancer Immunotherapy, whose daughter Helen Coley Nauts (1907-2001) founded the Cancer Research Institute. Award winners are nominated by CRI's Scientific Advisory Council and former Coley Award winners, including: Geoffrey O. Coley, Zelig Eshhar, Elizabeth M. Jaffee, Antoni Ribas, Lawrence E. Samelson, Brian Seed, and Arthur Weiss (2019); Miriam Merad and Padmanee Sharma (2018); Rafi Ahmed and Thomas F. Gajewsky (2017); Ton Schumacher and Dan Littman (2016); Glenn Dranoff and Alexander Y. Rudensky (2015); Tasuku Honjo, Lieping Chen, Arlene Sharpe, and Gordon Freeman (2014); Michael Karin (2013); Carl June and Michel Sadelain (2012); Philip D. Greenberg and Steven A. Rosenberg (2011); Haruo Ohtani, Wolf Hervé Fridman, and Jérôme Galon (2010).
For more information please read the organization's press release and the LMU press release.