IXA 2019 – 15th Congress of the International Xenotransplantation Association
Date: October 10-13
04.10.2019
The IXA organized an international symposium on xenotransplantation. This conference will attract attendees from around the world, including clinicians, researchers, cutting-edge industry and outstanding university students who work on the advancement of Xenotransplantation science worldwide.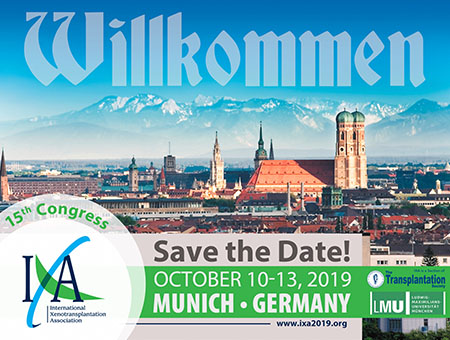 The International Xenotransplantation Association (IXA) was established at the Montreal '98 Congress of The Transplantation Society, with the aim of providing a forum for those with a special interest in Xenotransplantation.
Date: October 10-13, 2019
Venue: LMU, Geschwister Scholl Platz 1

We look forward to welcoming our colleagues from around the world to Munich in October 2019. These are exciting times for the area of xenotransplantation and we are working on developing the most comprehensive and balanced program for all our delegates.
Please visit the conference website for more information.