Award "Pro meritis scientiae et litterarum"
Horst Domdey receives award "Pro meritis scientiae et litterarum" for mediation between science and industry
05.02.2020
Prof. Horst Domdey is a biochemist and managing director of BioM Biotech Cluster Development GmbH. In addition, Domdey is spokesman of the Biotechnology Cluster Bavaria, scientific director of the Bavarian research network bayresq.net and chairman of two science-oriented foundations.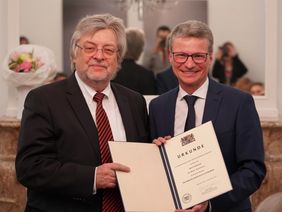 Science Minister Bernd Sibler described the prizewinner Prof. Horst Domdey as a "networker in the field of life sciences in Bavaria": "You have a special eye for successful innovative company foundations from science. The Martinsried campus is a well-known example of this and a globally respected figurehead for Munich, Bavaria and Germany in the field of biotechnology. According to Minister Sibler, Prof. Dr. Domdey is also highly committed to mediating between research and practice as Managing Director of BioM Biotech Cluster Development GmbH.
"The award is a very great honour for me. It has surprised me and I am all the more pleased about it. It has always been my goal to put scientific findings into practice, i.e. to turn them into innovations. At the Martinsried campus and throughout Bavaria, we have already been able to support many successful innovations. I still see great potential for the translation of research into application at the location. The networking of all important players is extremely important for this", explained Prof. Horst Domdey.
"When it comes to research projects on major and socially highly relevant topics, the threads come together at your company. The State of Bavaria is aware of your valuable work, for example for the Bavarian Genome Research Network, and is currently working on our new research network to combat multi-resistant germs," said Sibler about prizewinner Horst Domdey. The Minister went on to say: "Your life's work, your mediation between science and industry, deserves extraordinary recognition.
The "Pro meritis scientiae et litterarum" prize, yearly awarded by the Bavarian State Ministry of Science and Art, represents a recognition of outstanding personalities for their services to science and the arts in Bavaria. The aim of this honour, apart from the appreciation of these personalities, is to understand culture as a unity: Science and art should be seen as two sides of the same coin. As a rule, only up to eight awards are presented each year.