Cancer research
New strategies for improved antibody therapies against leukemia
27.07.2022
T-cell recruiting, bispecific antibodies (biAb) are a promising treatment strategy for patients with malignant tumors. The mechanism of action of this biAb is based on bringing immune defense cells into close contact with cancer cells, so that the cancer cells are eliminated by the body's own immune cells. However, the application of this successful therapy platform is associated with hurdles. Researchers led by Marion Subklewe from the LMU Hospital have now been able to decipher new mechanisms that contribute to the success of biAb therapies in acute leukemia. This project was funded by the Wilhelm Sander Foundation.
Marion Subklewe's working group addressed three questions:
i) the identification of new target structures and the possibility of using intracellular antigens with biAb,
ii) the modulation of biAb-induced T-cell responses through the presence of costimulatory and coinhibitory signals on tumor cells and
iii) the role of continuous biAb exposure on T-cell function and the resulting altered effectiveness in lysing leukemia cells.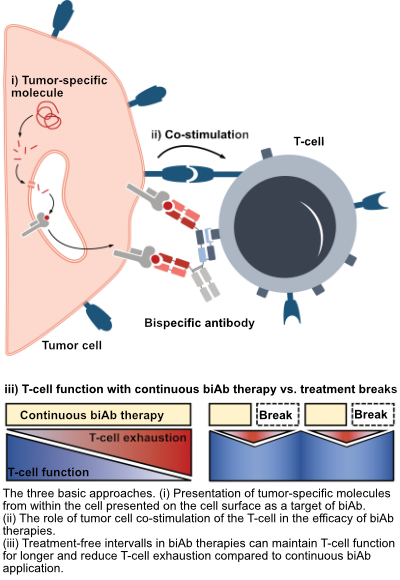 Presentation of tumor-specific molecules from within the cell presented on the cell surface as a target of biAb
So far, biAb therapies have only used molecules on the tumor cell surface as a target, which are often also found on healthy cells. With the new biAb it is now possible to detect fragments of molecules from inside the cell, which are presented by special receptors on the cell surface. This opens up a large new repertoire of target molecules for biAb therapies and can greatly increase their specificity against tumor cells.
Co-stimulatory molecules make an important contribution to the efficacy of biAb therapies
Co-stimulatory (T-cell activating) molecules presented on the surface of target cells are essential for optimal activation of T cells. If the T cell comes into close contact with a tumor cell through a biAb, the costimulatory molecules increase T-cell activation and thus lead to improved elimination of the tumor cells. In a model system, Ms. Subklewe's working group showed that tumor cells expressing additional costimulatory molecules are more susceptible to killing by biAb. If, on the other hand, a co-inhibitory (T-cell inhibiting) molecule was also present, the effect of the biAb was reduced. Using imaging flow cytometry, the researchers furthermore showed that the expression of co-stimulatory molecules significantly increased conjugate formation (direct cell-cell contact between T cell and tumor cell) compared to cells without costimulatory molecules or cells with coinhibitory molecules. These data highlight the potential benefit of combining biAb with costimulatory agents to improve T-cell responses in patients.
Treatment breaks could improve the effectiveness of biAb therapies
A further improvement of biAb therapies could also be achieved by changing the timing of the application of the biAb: Based on the clinical application in which biAb are administered as a continuous infusion over four weeks, it could be shown in in vitro model systems that the continuous biAb stimulation in the context of AML and ALL leads to T-cell exhaustion, which is also observed in chronic viral infections such as HIV. After prolonged stimulation, the T-cells were no longer able to eliminate tumor cells as effectively in the experiment and released fewer messenger substances that are important for an effective immune response. If, on the other hand, the stimulation with biAb was temporarily interrupted, the T-cells functionally resembled treatment-naïve T-cells after the treatment break. After renewed biAb stimulation, the T-cells also reactivated an effector program and were less exhausted compared to continuously stimulated T-cells.
Wilhelm Sander Foundation - partner of innovative cancer research
The Wilhelm Sander Foundation supported this research project with a total of around 115,000 euros over 24 months. The purpose of the foundation is to promote medical research, especially projects in the context of cancer control. Since its foundation, a total of over 270 million euros have been paid for research funding in Germany and Switzerland.
Original Publication:
T-cell exhaustion induced by continuous bispecific molecule exposure is ameliorated by treatment-free intervals.
Zieger N, Kazerani M, Nicholls A, Vick B, Wulf J, Straub T, Scheurer M, Muth A, Hänel G, Nixdorf D, Sponheimer M, Ohlmeyer M, Lacher SM, Brauchle B, Marcinek A, Rohrbacher L, Leutbecher A, Rejeski K, Weigert O, von Bergwelt-Baildon M, Theurich S, Kischel R, Jeremias I, Bücklein VL, Subklewe M.
Blood. 2022 Jul 25:blood.2022015956. doi: 10.1182/blood.2022015956.
Related publications:
Targeting intracellular WT1 in AML with a novel RMF-peptide-MHC-specific T-cell bispecific antibody.
Augsberger C, Hänel G, Xu W, Pulko V, Hanisch LJ, Augustin A, Challier J, Hunt K, Vick B, Rovatti PE, Krupka C, Rothe M, Schönle A, Sam J, Lezan E, Ducret A, Ortiz-Franyuti D, Walz AC, Benz J, Bujotzek A, Lichtenegger FS, Gassner C, Carpy A, Lyamichev V, Patel J, Konstandin N, Tunger A, Schmitz M, von Bergwelt-Baildon M, Spiekermann K, Vago L, Jeremias I, Marrer-Berger E, Umaña P, Klein C, Subklewe M.
Blood. 2021 Dec 23;138(25):2655-2669. doi: 10.1182/blood.2020010477.
Integrated multiomic approach for identification of novel immunotherapeutic targets in AML.
Köhnke T, Liu X, Haubner S, Bücklein V, Hänel G, Krupka C, Solis-Mezarino V, Herzog F, Subklewe M.
Biomark Res. 2022 Jun 10;10(1):43. doi: 10.1186/s40364-022-00390-4.
CD33 BiTE® Construct Mediated Immunological Synapse Formation and Downstream Signaling in T cells is Dependent on Expression of Costimulatory Molecules on Target Cells.
Marcinek A, Brauchle B, Hänel G, Lacher S, Zieger N, Kischel R, von Bergwelt M, Spiekermann K, Theurich S, James JR, Bücklein V, Subklewe M.
Blood, 2021; 138 (Supplement 1):513.
Augmenting Efficacy of T-Cell Bispecific Antibodies in AML through a Tumor Stroma-Targeted 4-1BB Agonist.
Hänel G, Neumann A-S, Pulko V, Claus C, Leutbecher A, Marcinek A, Zieger N, Bücklein V, Umana P, Klein C, Subklewe M.
Blood, 2021; 138 (Supplement 1):1178