Patrick Cramer elected as new President of the Max Planck Society
Former Director of the Gene Center will start his new position in June 2023
23.06.2022
At its meeting on 23 June 2022 in Berlin, the Max Planck Society's Senate unanimously appointed Patrick Cramer as new President-elect of the Max Planck Society for the term of office from 2023 to 2029.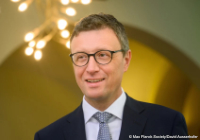 Patrick Cramer served as Director of the Gene Center from 2004 to 2013 and was responsible for the construction of the Research Center for Molecular Biosystems.
We cordially congratulate Patrick to his new position and wish him all the best!
More information: https://www.mpg.de/18845304/patrick-cramer-president-elect-mpg