Krupp award for Lucas Jae
Lucas Jae is the winner of the Alfried Krupp-Förderpreis 2022
10.11.2022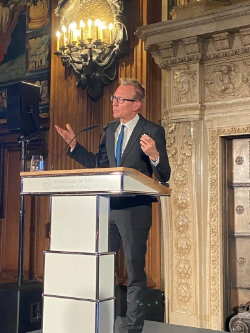 This year's Alfried Krupp Prize goes to Lucas Jae, Professor for Functional Genomics at the LMU Gene Center since 2019, for his research on the role of mitochondria in human disease processes. The award, worth 1 million euros, is sponsored by the Alfried Krupp von Bohlen und Halbach Foundation, and honors outstanding researchers who have already been appointed to their first professorship. The prize was awarded to him at a ceremony in Essen on November 10, 2022.
Lucas research focuses on mapping the genetic and molecular basis of mitochondrial function in healthy and impaired states applying a unique screening system. Together with his team, he is using a combination of specially developed methods of genome manipulation, synthetic biology and genome-wide screening at the single cell level, in combination with classical methods of biochemistry and cell biology.
Before establishing his own group at the Gene Center in 2016, Lucas worked with Thijn Brummelkamp at the Netherlands Cancer Institute in Amsterdam. Lucas Jae's work has already been recognized with high-level grants and awards, including the "Starting Grant" of the European Research Council (2018), the "Heinz Maier-Leibnitz Prize" of the German Research Foundation and the Federal Ministry of Education and Research (2018) and the "Life Sciences Bridge Award" of the Aventis Foundation in 2021.
For more details about Lucas Jae's career and his research projects, please visit the Jae lab website.
Please visit the website of the Alfried Krupp von Bohlen und Halbach Foundation (German only) for more information about the Krupp foundation and read the foundation's press release (also in German).