Cancer research
Keep an eye on infections during CAR-T therapy
17.05.2022
A team led by Dr. Kai Rejeski and Prof. Marion Subklewe from the LMU Hospital has discovered that many CAR-T patients suffer from a side effect that initially fell under the radar: a sometimes life-threatening, sometimes long-lasting drop in blood cells.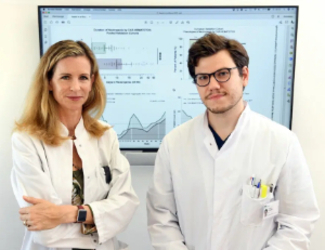 Together with international partners, the Munich team shed light on this phenomenon and developed a score that can be used to stratify high- vs. low-risk patients for this CAR-T cell side effect before starting therapy. (Rejeski et al Blood 2021). This is important as CAR-T therapy moves towards potential outpatient administration in the future. Under these circumstances, it is particularly crucial to know early on who is at risk for prolonged cytopenia - and who is not. In a subsequent study they investigated whether the model could also be used to stratify CAR T-cell patients for infections and risk of progression prior to therapy initiation. The results have now been published in the Journal for Immunotherapy of Cancer.
Marion Subklewe and Kai Rejeski have developed the
so-called CAR-HEMATOTOX Score
Background CD19-directed chimeric antigen receptor T-cell therapy (CAR-T) represents a promising treatment modality for an increasing number of B-cell malignancies. However, prolonged cytopenias and infections substantially contribute to the toxicity burden of CAR-T. The recently developed CAR-HEMATOTOX (HT) score—composed of five pre-lymphodepletion variables (eg, absolute neutrophil count, platelet count, hemoglobin, C-reactive protein, ferritin)—enables risk stratification of hematological toxicity.
Methods In this multicenter retrospective analysis, they characterized early infection events (days 0–90) and clinical outcomes in 248 patients receiving standard- of-care CD19 CAR-T for relapsed/refractory large B-cell lymphoma. This included a derivation cohort (cohort A, 179 patients) and a second independent validation cohort (cohort B, 69 patients). Cumulative incidence curves were calculated for all-grade, grade ≥3, and specific infection subtypes. Clinical outcomes were studied via Kaplan-Meier estimates.
Results In a multivariate analysis adjusted for other baseline features, the HT score identified patients at high risk for severe infections (adjusted HR 6.4, 95% CI 3.1 to 13.1). HThigh patients more frequently developed severe infections (40% vs 8%, p<0.0001)—particularly severe bacterial infections (27% vs 0.9%, p<0.0001). Additionally, multivariate analysis of post-CAR-T factors revealed that infection risk was increased by prolonged neutropenia (≥14 days) and corticosteroid use (≥9 days), and decreased with fluoroquinolone prophylaxis. Antibacterial prophylaxis significantly reduced the likelihood of severe bacterial infections in HThigh (16% vs 46%, p<0.001), but not HTlow patients (0% vs 2%, p=n.s.). Collectively, HThigh patients experienced worse median progression-free (3.4 vs 12.6 months) and overall survival (9.1 months vs not-reached), and were hospitalized longer (median 20 vs 16 days). Severe infections represented the most common cause of non-relapse mortality after CAR-T and were associated with poor survival outcomes. A trend toward increased non-relapse mortality in HThigh patients was observed (8.0% vs 3.7%, p=0.09).
Conclusions These data demonstrate the utility of the HT score to risk-stratify patients for infectious complications and poor survival outcomes prior to CD19 CAR-T. High-risk patients likely benefit from anti-infective prophylaxis and should be closely monitored for potential infections and relapse. Link to Online Calculator

Original Publication:
The CAR-HEMATOTOX risk-stratifies patients for severe infections and disease progression after CD19 CAR-T in R/R LBCL
Rejeski K, Perez A, Iacoboni G, Penack O, Bücklein V, Jentzsch L, Mougiakakos D, Johnson G, Arciola B, Carpio C, Blumenberg V, Hoster E, Bullinger L, Locke FL, von Bergwelt-Baildon M, Mackensen A, Bethge W, Barba P, Jain MD, Subklewe M.
J Immunother Cancer. 2022 May;10(5):e004475. doi: 10.1136/jitc-2021-004475.