Bettencourt Prize
Veit Hornung recieves prestigious award
14.12.2018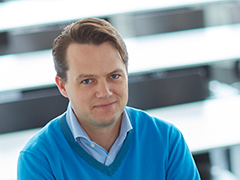 Veit Hornung, Professor of Immunobiochemistry at the LMU Gene Center, has received the Liliane Bettencourt Prize for Life Sciences.
Veit Hornung was awarded by the Liliane Bettencourt Schueller Foundation for his research in innate immunity to distinguish between self from non-self patterns.
The Liliane Betterncourt Prize for Life Sciences yearly awards researchers up to an age of 45 for their excellent research and publications in the area of life sciences.
Photographs of the award ceremony and a portrait of Veit Hornung are available on the Bettencourt Website.
More information please visit LMU.de/news.