Research Awards
Johannes Stigler receives ERC Starting Grant
13.09.2017
Five early-career researchers have received generously endowed Starting Grants from the European Research Council (ERC) to carry out innovative projects at LMU.
Five early-career researchers at LMU have received Starting Grants from the European Research Council (ERC) for projects in various disciplines. These much sought-after, 5-year grants are each worth approximately 1.5 million euros in all, and are among the most prestigious of all European research awards. Submissions are evaluated solely on the basis of the applicant's previous scientific record and the quality of the proposed project. Moreover, LMU offers the option of appointment to a Tenure Track Professorship to successful grantees, which can be converted into a permanent faculty position, subject to a positive assessment of performance.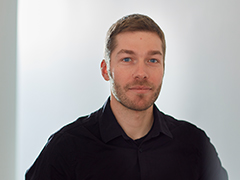 Dr. Johannes Stigler is a physicist, and the primary goal of his research is to elucidate the nature of the molecular interactions between proteins and DNA that enable genetic information to be securely stored and read out under the appropriate circumstances.
Stigler's ERC project is designed to characterize the complex molecular mechanisms responsible for the higher-order structure of chromosomes in which most of the DNA is packed in a highly condensed form, which is based on its binding to protein complexes made up of so-called histones. Recent work has shown that each chromosome is also dynamically folded into long loops which bring distant sites into close proximity. In order to shed light on the nucleic acid/protein interactions responsible for this level of spatial organization, Stigler plans to study them at the single-molecule level with the help of state-of-the-art imaging techniques.
Johannes Stigler studied Physics in Munich and Lund and in Kenneth Dawson's group at the Centre for BioNano Interactions at University College Dublin. He then joined Professor Matthias Rief's Molecular Biophysics Group in the Physics Department at the Technical University of Munich (TUM), where he did his PhD thesis. Before moving to LMU, Stigler was a Feodor Lynen Fellow of the Alexander von Humboldt Foundation at Columbia University in New York City, where he worked with Professors Julio Fernandez and Eric C. Greene.
More information please visit LMU.de/news