Johannes Stigler appointed
Professorship for Physical Biochemistry
10.12.2018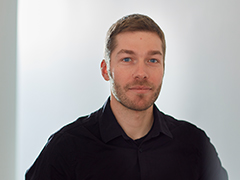 Johannes Stigler, head of the research group Biophysics of Structural Dynamics in Chromosomes, has been appointed Professor of Physical Biochemistry at the LMU Department of Biochemistry.
The research area of Johannes Stigler is focussed on the determination of processes that lead to three-dimensional folding of chromosomes. He uses biophysical single molecule techniques to get insight into the meachnistics of intrachromosomal crosslinks and how hierarchically structured chromosomes are established. He is an Emmy Noether Group Leader at the Gene Center since 2017 and has won an ERC starting grant in 2017 to support his research.
For more information on Johannes Stigler's research projects, please visit his website.