Cancer research
Keep an eye on blood values during CAR-T therapy
16.09.2021
Immunotherapy with so-called CAR-T cells has become established for the treatment of various leukaemias (blood cancers) and lymphomas (cancers of the lymph glands). More and more patients are being treated.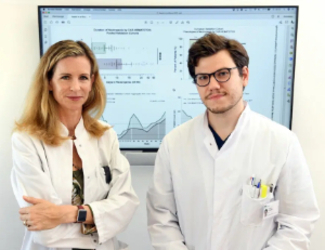 A team led by Dr. Kai Rejeski and Prof. Marion Subklewe from Medical Clinic III of the LMU Hospital has discovered that many patients suffer from a side effect that initially fell under the radar: a sometimes life-threatening, sometimes long-lasting drop in blood cells. Together with international partners, the Munich team has shed light on this phenomenon and developed a score that can be used to stratify high- vs. low-risk patients for this CAR-T cell side effect before starting therapy. This is important because CAR-T therapy is also to be given outside of trials on an outpatient basis in the future. Under these circumstances, it is particularly crucial to know early on who is at risk for prolonged cytopenia - and who is not.
Marion Subklewe and Kai Rejeski have developed the
so-called CAR-HEMATOTOX Score with international partners
Original Publication:
CAR-HEMATOTOX: A model for CAR T-cell related hematological toxicity in relapsed/refractory large B-cell lymphoma.
Rejeski K, Perez Perez A, Sesques P, Hoster E, Berger CS, Jentzsch L, Mougiakakos D, Frölich L, Ackermann J, Buecklein V, Blumenberg V, Schmidt C, Jallades L, Fehse B, Faul C, Karschnia P, Weigert O, Dreyling M, Locke FL, von Bergwelt-Baildon M, Mackensen A, Bethge WA, Ayuk F, Bachy E, Salles GA, Jain MD, Subklewe M.
Blood. 2021 Jun 24:blood.2020010543. doi: 10.1182/blood.2020010543.