Ernst-Ludwig Winnacker, founder of LMU's Gene Center Munich, turns 80
In his capacity as founder and Director of the Gene Center Munich, Professor Winnacker has been instrumental in shaping German and European science – and research in the Bavarian capital.
26.07.2021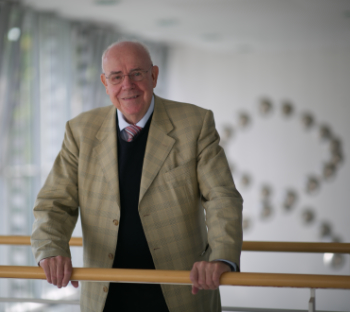 Ernst-Ludwig Winnacker celebrates his 80th birthday on 26 July. Just a week earlier, he published a highly topical new book: Mein Leben mit Viren. Eine Forschergeschichte über die faszinierende Welt der Krankheitserreger (My life with viruses. A journey of discovery through the fascinating world of pathogens).
While most people have only really been interested in viruses for about a year and a half, Winnacker has devoted his life to the subject. As a child he suffered an adverse reaction to the smallpox vaccine. Later, during a stay in the USA, his wife's life was threatened by a bout of the Hong Kong flu. Viruses became Winnacker's area of expertise – and were already the object of his research when he came to LMU in 1977. "Viruses are tools of research," the biochemist says. "They are small and simple – much simpler to investigate than large genomes. But they are also like submarines that lurk in the depths of host cells, seeking to hijack and misuse them. And they can only do that because they understand the cells. So we can learn from them." Winnacker believes that, as a scientific tool, viruses could be the key to unlock cells and allow us to explore them.
When he came to LMU, his academic career had already taken him to Zurich, Stockholm, Berkeley and Cologne. And he knew exactly the direction in which his research was heading. Winnacker wanted to establish what today is broadly labeled genetic engineering in Munich. "I had seen the way the wind was blowing at the Karolinska Institutet (Karolinska Institute) and at Berkeley," he recalls.
At the time, universities in Germany were chronically underfunded – partly in the wake of what became known as the 'education explosion'. Notwithstanding, Winnacker and his colleagues scored a hit with their application to set up a Gene Center in Munich that would be run as a joint venture by LMU and the Max Planck Institutes in Martinsried.
Pioneering academic spirit
Winnacker's pioneering academic spirit could be described as the nucleus of this center, which, under his leadership, developed to become a world-renowned institute for biomolecular research and teaching. Upon founding the Gene Center, he was quick to realize "that we can only achieve anything if we adopt an interdisciplinary approach." And in keeping with this conviction, he and his colleagues approached genetic research from differing perspectives: Scientists from the disciplines of chemistry, biology, human medicine and veterinary medicine tackled key issues from every angle. "That is how everything that had anything to do with genes came together back then," Winnacker notes. "It worked. And it is still working today."
During his tenure as Director of the Gene Center, the topics that would later fashion his signature in various scientific managerial posts were already of great importance to him. Alongside an interdisciplinary approach, Winnacker also committed to partnerships between universities and scientific institutes, to an international orientation and – above all – to the development of young talent.
Creating structures and outlooks
Initial groups of talented youngsters were organized as soon as the Gene Center opened for business. "The idea was for eight young people who had already earned their doctorates but had not yet qualified as professors to set up their own little group as they saw fit," Winnacker explains. "It got approved and it worked well. That set the ball rolling, and we recruited good people from the USA, Switzerland and Germany." Looking back, the freshly minted octogenarian says that was what pleased him most: On the one hand, the center benefited enormously from these young people, who contributed their ideas and provided valuable stimulus. In return, young researchers at the Gene Center were able to realize their potential, publish papers, win prizes and be appointed to professorships. Even from the early days, Winnacker was especially keen to promote the development of women: "I had very good female doctoral students," he says, "and we obviously needed to create better structures and outlooks for them."
Ultimately, knowing about these needs was what prompted him to step back from active research and become involved in shaping scientific policy in the role of President of the Deutsche Forschungsgemeinchaft, DFG (German Research Foundation). "There was so much to do," Winnacker says. "And I thought to myself, you need to take this post so that you can make changes." One example of his activities as President of the DFG was reintroducing the Emmy Noether Program. Later, as Secretary General of the European Research Council (ERC), he initiated such programs as the ERC Starting Grants.
Ernst-Ludwig Winnacker has now returned to active research, accompanying projects in areas such as immunology. The need to develop young talent likewise remains close to his heart – in both a professional and a private capacity. "During the coronavirus pandemic, I stepped in to be a home tutor to my two granddaughters," he smiles. "I could already cope with the reading and writing, but you learn so many new things above and beyond that."
Winnacker will spend his landmark birthday with the family and is already looking forward to a September symposium at LMU with a raft of outstanding colleagues and companions. Born in the central German state of Hesse, he made Munich his home almost 45 years ago and has remained true to it ever since: "Even though I never became a good skier, there has simply been no reason to move away from Munich."
Ernst-Ludwig Winnacker: Mein Leben mit Viren. Eine Forschergeschichte über die faszinierende Welt der Krankheitserreger (My life with viruses. A journey of discovery through the fascinating world of pathogens), S. Hirzel Verlag GmbH, was published on July 20, 2021.
Text: Kerstin Pistorius, LMU Press Office
More press reports: