Vallee Scholar Award for Lucas Jae
Lucas Jae receives one of six Vallee Foundation Scholarships. He will now have an additional $340,000 for his research over the next four years.
01.09.2023
The Vallee Scholar Awards Program supports outstanding early career researchers at a critical stage in their tenure-track careers. The award sum of $340,000 per awardee can be spent on basic biomedical research. In addition to the quality of their science and potential impact of their proposed research, the Committee considered each applicant's career trajectory and their commitment to fostering a diverse work environment.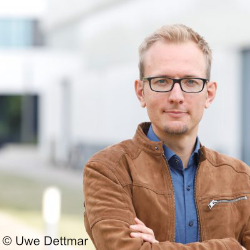 Lucas Jae's research group at the LMU Gene Center combines genome engineering and synthetic biology approaches with genome-wide functional genomics to study how human cells respond to perturbations of their proteome, particularly in the context of dysfunctional mitochondria. The goal is to map the pathways that become engaged, understand their interaction and how they ultimately decide the fate of the cell. In the future, such knowledge may help to manipulate maladaptive responses observed in human disease scenarios.
The Vallee Foundation was established by Bert and Kuggie Vallee as their legacy to advance medical science and medical education. The Foundation stimulates the development of interdisciplinary science related to human health by encouraging interaction among productive scientists worldwide. For more information, please visit their website at http://thevalleefoundation.org/ and the Vallee Foundation press release.
For more information about Lucas Jae's career and his research projects, please visit the Jae lab website.