Master Biochemistry

The Master's program in Biochemistry at the Ludwig-Maximilians-University is an international program for German, European and International students, which is taught entirely in English. It aims at providing a cutting-edge education by combining advanced studies of Biochemistry with corresponding studies in related fields of Chemistry and/or Biology.

The LMU is located in the attractive city of Munich with the Department of Biochemistry situated at the GeneCenter on the so-called LMU high-tech campus in Großhadern (video of life scientists at the LMU). The university's life science faculties, Max-Planck-Institutes for Biochemistry and Neurobiology, Helmholtz Institute and Biotech companies are all nearby (campus from above).
The program is organized by the Department of Biochemistry in association with the Faculty of Biology. This interfaculty arrangement offers an interdisciplinary education in advanced and most modern experimental and theoretical skills. Internationally known and well-connected researchers teach state-of-the-art biochemistry as well as practical and organizational skills with the goal to enable students to independently conduct competitive research in Life Sciences.

During the program all students receive a thorough mandatory training in advanced Biochemistry. In addition, they have the option to choose from numerous subjects as complementing major or minor subjects. The underlying idea is that students can develop their own interests and either gain a broader knowledge around biochemistry or focus and specialize in particular fields in depth.

In providing an appropriate environment, the research of the Department of Biochemistry mainly focusses on Structural Biology and Innate Immunity, with a strong publication record proving the excellence of the teaching faculty in these fields. Students with interest in these research areas can expect top of the line education from experts who are geared to inspire young researchers. Moreover, the setting in Großhadern/Martinsried allows for the easy access of other institutes, which are readily participating in the education of our students, offer research internships and cover almost all other major fields of modern Chemistry and Life Science.
An integral and absolutely critical part of the curriculum is to work in laboratories on real research projects either in the context of research internships or the Master thesis. Here, we actively encourage and

support our students in following their interests and also choose labs outside of the LMU. Therefore, a large fraction of each class manages to secure internships or Master thesis positions in international labs of highest scientific reputation. We help our students with the identification of such labs and provide advise on how to apply and also on how to secure financing. After successfully completing their Master curriculum at the LMU, the vast majority of the Biochemistry students continue their academic education with graduate studies in order to receive a Dr. rer. nat. or a PhD.
The program starts twice per year, for more information on the application process see below.

Program Structure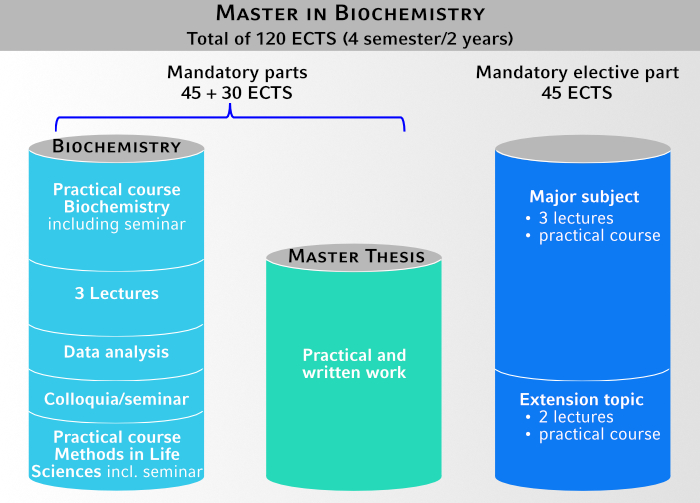 The program takes two years, divided in four semesters.
120 credit points (ECTS points) have to be earned from mandatory and compulsory elective modules.
Downloads
Study Rules for the Master Biochemistry program, start October 2015
Module Catalogue for the Master Biochemistry program, start October 2015
Application
The Master in Biochemistry at the LMU Munich is a cross-disciplinary program taught exclusively in English and open to German and international students. Each year, we offer two application deadlines for the Master in Biochemistry program: January 15 and July 15. The programs start in April and October, respectively.
More information about application
Studying Abroad
The Gene Center is home to scientists from many different countries at every career stage, fostering a truly international atmosphere in research and teaching. We welcome students and scientists from other countries to our Master's, PhD, and post-doctoral programs. Conversely, we encourage our Master's students to gain international experience by doing their laboratory rotation or their thesis project abroad.
Here, we provide some general information for incoming and outgoing projects.
News
News of the Master of Science in Biochemistry Program also as RSS-Feed.
Contact
Coordinator Study Program Master Biochemistry
Dr. Johanna Turck
Feodor-Lynen-Strasse 25, 81377 München
Building A, Gene Center, Room 0.53
Tel +49 (0)89 2180 76979
stusekbc@genzentrum.lmu.de
Contact for Master Biochemistry Applications:
masterbc.application@genzentrum.lmu.de
Downloads