Bioimaging

Bioimaging unites the power of microscopy, biology, biophysics, biochemistry and advanced computational methods to study how genes and proteins function in living cells and organisms. Our bioimaging unit provides access to high grade fluorescence research microscopes to observe and analyse fixed samples as well as live organisms. We maintain multiple imaging systems and support their use through training and advice. We also support scientists for data analysis using various software platforms for image processing or 3D volume rendering (such as Definiens, Imaris, the Huygens Suite, or ImageJ).
Our instrumentation includes several confocal microscopes (Leica SP8 equipped with a white laser and an integrated deconvolution software, Zeiss LSM710 and Zeiss LSM510), stereomicroscopes (two Leica M205), and a epifluorescence system (Leica DM6000) customized for single molecule detection capabilities. The latter setup has also been custom-upgraded with a new excitation light path to allow high performance light sheet microscopy (single-objective selective plane illumination microscopy -soSPIM-). In addition, we have also available a commercial Luxendo-Bruker MuVi-SPIM light sheet system. Finally, we provide access to High Performance Fluorescence Anisotropy (HiP-FA), a new binding assay developed at the Gene Center. This microscopy-based technique allows measuring protein-protein and TF-DNA binding affinities with high accuracy and at large scale (Jung et al. 2018, Nat. Comm. 9, 1605; Jung et al. 2019, JoVE, e58763).
Please contact us to get an insight which of the microscopes can be used for which kind of sample. We will try our best to help you!
Location
BioSysM
Butenandtstraße 1
81377 Munich
Rooms: K 02.024 and K 02.026
Booking system
Our machines are partially integrated in the Center for Advanced Light Microscopy of the LMU (CALM). To book an imaging session, please first contact Dr. Christophe Jung who will give you an introduction to the relevant microscope. After the training, sign the terms of use (CALM webpage: https://www.calm.bio.lmu.de/for-users/index.html) and send it to Andreas Maiser (maiser@bio.lmu.de) as scan or as printout. You can then access to your booking account by following the link: https://booking.bio.lmu.de/Web/index.php?redirect=%2FWeb%2Fschedule.php%3F
Equipment
Confocal microscopy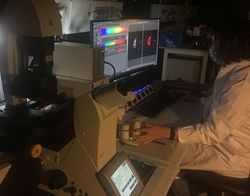 Leica SP8
Equipped with a white light laser (WLL), a 405nm diode laser, and an environmental chamber for live cell imaging experiments. It mounts one photomultiplier (PMT) and two hybrid detectors (HyD). The microscope software includes an integrated deconvolution algorithm. Furthermore, the setup is supplemented by a second laser scanner (resonant scanner) for fast live imaging, as an alternative technique to spinning disk confocal microscopy.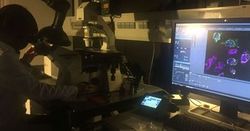 Zeiss LSM710
Equipped with 405nm, 488nm, 515nm, 561nm and 633nm excitation laser lines, two PMTs, a multichannel spectral detector, and a infrared-reflectance hardware autofocus system.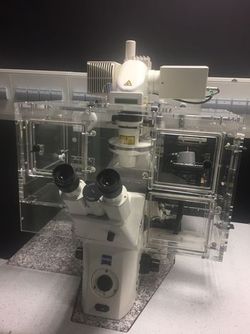 Zeiss LSM510
Older generation confocal microscope suitable for routine fluorescence measurements. Equipped with an environmental chamber for live cell imaging experiments.
Widefield microscopy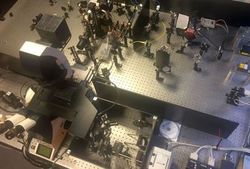 Leica DMI6000
Inverted epifluorescence microscope equipped with 404nm, 490nm, 505nm, 532nm and 638nm continuous diode lasers, a motorized stage, and a back-illuminated EM-CCD camera for single molecule detection (Andor iXon DV897).

High Performance Fluorescence Anisotropy (HiP-FA)
To perform HiP-FA measurements, the above described setup was custom-modified with additional optical elements (see also Jung et al., Nat. Comm. 2018).
Light sheet microscopy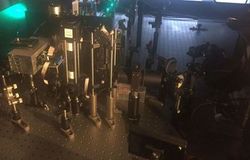 Single-objective selective plane illumination microscopy (soSPIM)
A soSPIM system was home-built following Galland et al. (Nat. Methods 2015) with substantial technical changes, especially for sample mounting to facilitate imaging of Drosophila embryos. In addition, we used the Micro-Manager software package (https://micro-manager.org/) for microscope control to operate in a fully open source environment.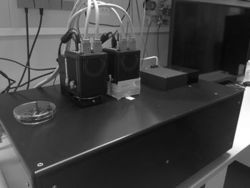 Luxendo-Bruker MuVi-SPIM
Equipped with dual opposite illumination and detection system, environmental control, digital scanned light-sheet and photomanipulation. It is ideal for fast and long-term multi-view imaging of live specimen such as zebrafish/Drosophila embryos or organoids.
Stereomicroscopy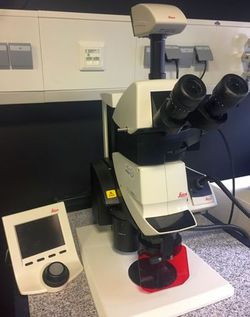 Leica M205
For the 3D viewing of larger specimens and their fluorescence imaging.