About
The Gene Center is a central scientific institution of the LMU Munich. It hosts the research groups of the Department of Biochemistry (Faculty of Chemistry and Pharmacy), intra- and extramurally funded independent junior research groups, and several groups of the Faculties of Medicine and Veterinary Medicine. The Gene Center is currently directed by Karl-Peter Hopfner.
Research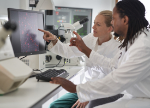 The Gene Center is an interdisciplinary and interdepartmental research institution. Our research groups address central questions of the life sciences using state-of-the-art technologies that range from high-resolution structural biology to systems and computational biology. Main research areas are structural and molecular biology, genome and system biology, innate immunity and infection biology, and translational medicine.
Over the years, our group leaders have secured substantial amounts of external funding, founded successful biotech companies and been awarded, among other prestigious honours, numerous ERC grants and several Gottfried-Wilhelm-Leibniz Prizes.
Location
Our groups are accommodated by the original Gene Center and the BioSysM building on the Großhadern Campus, they are only about 100 m apart: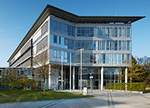 The Gene Center, built in 1994, hosts groups primarily focused on structural and molecular biology as well as translational biomedical research.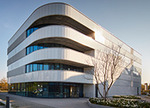 The Research Center for Molecular Biosystems Munich (BioSysM, built in 2016) hosts groups mainly working on systems and computational biology and innate immunity.
Teaching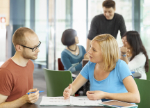 The Department of Biochemistry provides undergraduate education on two levels: a three-year chemistry/biochemistry bachelor program jointly offered with the Department of Chemistry and its own two-year biochemistry Master's program (in collaboration with the Faculty of Biology). The Master's programme offers a cutting-edge education by combining advanced studies of Biochemistry with corresponding studies in related fields of Chemistry and/or Biology.