Stingele Lab - Cellular Biochemistry
Maintenance of Genome Stability
Endogenous Sources of DNA Damage
Repair of DNA-Protein Crosslinks
---
Maintenance of genome stability is essential to counteract cancer development and ageing. We are trying to understand how cells detect, signal and repair DNA damage. Moreover, we are interested in identifying the endogenous processes causing DNA damage in human cells. We investigate these processes using a combination of genetic approaches (functional genomics, high-content screening) and biochemical/biophysical techniques. Read more...
Mechanisms of DNA-protein crosslink repair.
Stingele J, Bellelli R, Boulton SJ.
Nat Rev Mol Cell Biol. 2017 Sep;18(9):563-573. doi: 10.1038/nrm.2017.56. Epub 2017 Jun 28. Review. PubMed
Mechanism and Regulation of DNA-Protein Crosslink Repair by the DNA-Dependent Metalloprotease SPRTN.
Stingele J, Bellelli R, Alte F, Hewitt G, Sarek G, Maslen SL, Tsutakawa SE, Borg A, Kjær S, Tainer JA, Skehel JM, Groll M, Boulton SJ.
Mol Cell. 2016 Nov 17;64(4):688-703. doi: 10.1016/j.molcel.2016.09.031. Epub 2016 Oct 27. PubMed
A DNA-dependent protease involved in DNA-protein crosslink repair.
Stingele J, Schwarz MS, Bloemeke N, Wolf PG, Jentsch S.
Cell. 2014 Jul 17;158(2):327-38. doi: 10.1016/j.cell.2014.04.053. Epub 2014 Jul 3. PubMed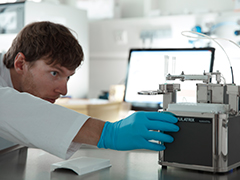 We are hiring!
We are seeking motivated PhD students and postdocs to join our lab. Please send your applications to Julian.