Ferraz Lab - Research
3D models of Reproductive tissues
Micro-engineered 3D cell cultures that mimic tissue and organ-specific micro-architecture, are a recent development. Micro 3D fabricated devices are used to engineer levels of cell organization, differentiation and interaction that are not readily achieved by conventional 2D cultures. By using 3D printing and microfluidics technologies, it is possible to rapidly create and refine organs-on-a-chip to study mammalian organ-specific physiology and, thereby, create better in vitro organ models to examine aspects of physiology, disease and toxicology. Some of the most promising features of microfluidic technology for ARTs are its high level of integration and its amenability to process automation, which would eventually allow implementing the entire IVP procedure in a fully automated single platform and additionally lead to standardization of the treatment across laboratories.
Dr. Ferraz previously re-created a bovine oviduct in a compartmentalized microfluidic device and it was next successfully applied to perform an entire IVF process. Importantly, this device supported more physiological (in vivo-like) zygote genetic reprogramming than conventional IVF.
At the Gene Center, our group will combine the oviduct-on-a-chip with an endometrium-on-a-chip in a single compartmentalized device, which will allow, as seen in vivo, the embryo to travel between oviduct and endometrium, providing a more in vivo-like system to study the maternal-embryonic interface as well as reproductive health and disease.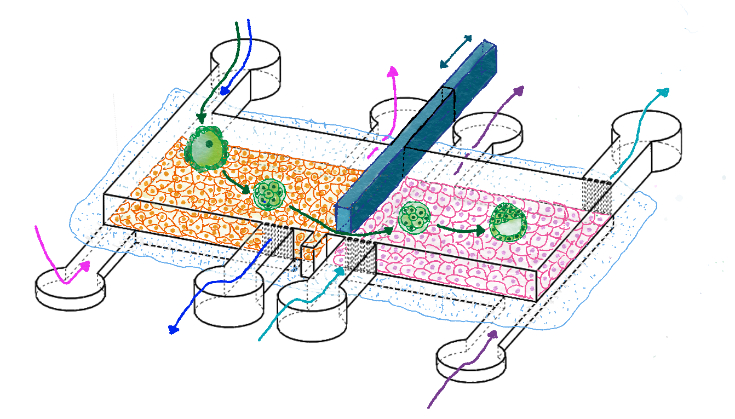 Design of the dual chamber microfluidics device design, including the oviductal (orange) and the endometrium (pink) chambers with independent inlets and outlets. The chambers are individually separated and can be easily opened for embryo migration. Figure by Dr. Bastien Venzac.
Publications:
A dog oviduct-on-a-chip model of serous tubal intraepithelial carcinoma.
Ferraz MAMM, Nagashima JB, Venzac B, Le Gac S, Songsasen N.
Sci Rep. 2020 Jan 31;10(1):1575. doi: 10.1038/s41598-020-58507-4. PubMed
3D printed mold leachates in PDMS microfluidic devices.
Ferraz MAMM, Nagashima JB, Venzac B, Le Gac S, Songsasen N.
Sci Rep. 2020 Jan 22;10(1):994. doi: 10.1038/s41598-020-57816-y. PubMed
An oviduct-on-a-chip provides an enhanced in vitro environment for zygote genome reprogramming.
Ferraz MAMM, Rho HS, Hemerich D, Henning HHW, van Tol HTA, Hölker M, Besenfelder U, Mokry M, Vos PLAM, Stout TAE, Le Gac S, Gadella BM.
Nat Commun. 2018 Nov 22;9(1):4934. doi: 10.1038/s41467-018-07119-8. PubMed
Potential Health and Environmental Risks of Three-Dimensional Engineered Polymers.
Ferraz MAMM, Henning HHW, Ferreira da Costa P, Malda J, Le Gac S, Bray F, van Duursen MBM, Brouwers JF, van de Lest CHA, Bertijn I, Kraneburg L, Vos PLAM, Stout TAE, Gadella BM.
Environ Sci Technol Lett. 2018 Feb 13;5(2):80-85. doi: 10.1021/acs.estlett.7b00495. PubMed
Improved bovine embryo production in an oviduct-on-a-chip system: prevention of poly-spermic fertilization and parthenogenic activation.
Ferraz MAMM, Henning HHW, Costa PF, Malda J, Melchels FP, Wubbolts R, Stout TAE, Vos PLAM, Gadella BM.
Lab Chip. 2017 Feb 28;17(5):905-916. doi: 10.1039/c6lc01566b. PubMed
Reviews:
Exploiting Microfluidics for Extracellular Vesicle Isolation and Characterization: Potential Use for Standardized Embryo Quality Assessment.
Talebjedi B, Tasnim N, Hoorfar M, Mastromonaco GF, Ferraz MAMM.
Front Vet Sci. 2021 Jan 5;7:620809. doi: 10.3389/fvets.2020.620809. PubMed
Understanding and Assisting Reproduction in Wildlife Species Using Microfluidics.
Le Gac S, Ferraz MAMM, Venzac B, Comizzoli P.
Trends Biotechnol. 2020 Oct 7:S0167-7799(20)30234-1. doi: 10.1016/j.tibtech.2020.08.012. PubMed
Designing 3-Dimensional In Vitro Oviduct Culture Systems to Study Mammalian Fertilization and Embryo Production.
Ferraz MAMM, Henning HHW, Stout TAE, Vos PLAM, Gadella BM.
Ann Biomed Eng. 2017 Jul;45(7):1731-1744. doi: 10.1007/s10439-016-1760-x. PubMed
A Review of New Technologies that may Become Useful for in vitro Production of Boar Sperm.
Gadella BM, Ferraz MAMM.
Reprod Domest Anim. 2015 Jul;50 Suppl 2:61-70. doi: 10.1111/rda.12571. PubMed